Kitchen Fitters
Kitchen Installation and Refurbishment
Kitchen fitters play an essential role in kitchen refurbishments across the United Kingdom. The installation of essential kitchen design elements, including cabinets, worktops, and appliances, is the speciality of these professionals. The knowledge and skills of these professionals can be highly valuable in designing a functional and visually striking kitchen that meets the unique needs and preferences of homeowners.
In the UK, there are many different types of kitchen fitters, ranging from small independent contractors to large companies with nationwide operations. Some specialize in specific types of kitchen designs or materials, while others offer a broad range of services to cater to diverse customer needs.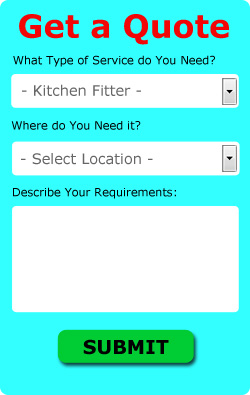 When choosing a kitchen fitter, there are several factors to consider to ensure that the end result meets your expectations. Here are some key considerations to keep in mind:
Experience and Qualifications
It is important to choose a kitchen fitter with the necessary experience and qualifications to do the job properly. A reliable fitter will have a portfolio of previous work, customer testimonials, and appropriate qualifications and certifications, such as Gas Safe certification for gas appliances. They should also be knowledgeable about building regulations, health and safety standards, and other legal requirements.
Cost and Budget
Kitchen refurbishments can be a significant investment, so it is essential to choose a fitter that fits within your budget. Be sure to get detailed quotes from several different fitters before making a decision. It is also important to consider the quality of the work that will be provided, as cutting corners to save money in the short-term may result in costly repairs or replacements down the line.
Range of Services
The scope of services offered by a kitchen fitter is another important factor to consider. Some fitters may only provide installation services, while others may offer design and planning assistance, project management, and after-sales support. Be sure to choose a fitter that offers services that align with your needs and preferences.
Quality of Materials
The quality of materials used in the kitchen refurbishment is another critical factor to consider. A reputable kitchen fitter will use high-quality materials that are built to last and meet the unique needs of your home. Be sure to ask about the materials that will be used in your kitchen refurbishment and do some research to ensure that they are of good quality.
Customer Service
Good customer service is essential when choosing a kitchen fitter. A reliable fitter will communicate clearly, be responsive to your questions and concerns, and provide regular updates throughout the refurbishment process. They should also be willing to address any issues or concerns that arise during or after the project.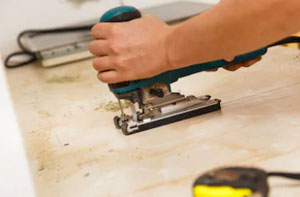 In the UK, there are several national kitchen fitting companies, such as Wren Kitchens, Magnet, and B&Q, that offer a range of services and products for kitchen refurbishments. These companies typically have a team of designers and fitters who can assist with every stage of the refurbishment process, from planning and design to installation and after-sales support. They also typically offer warranties or guarantees on their products and services, providing peace of mind for homeowners.
Smaller independent kitchen fitters may offer more personalized service and may have more flexibility in terms of customizing designs and materials to meet specific customer needs. They may also offer more competitive pricing and quicker turnaround times, as they are not bound by the same constraints as larger companies.
Regardless of the size of the kitchen fitter, it is important to choose one that is reliable, reputable, and able to provide high-quality services and products. Checking customer reviews, testimonials, and previous work portfolios can help you get a sense of the quality of service provided by different kitchen fitters.
It is also worth noting that the kitchen fitting industry is currently facing some challenges, particularly in terms of supply chain disruptions and labour shortages due to the COVID-19 pandemic. This has led to delays and higher costs for some kitchen refurbishment projects, as well as increased demand for fitters, which can make it harder to find a reputable and available professional.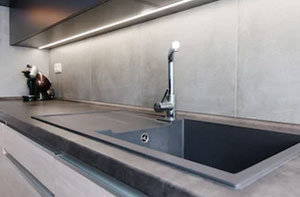 However, despite these challenges, the demand for kitchen refurbishments remains strong, as homeowners continue to invest in their homes to create functional and aesthetically pleasing living spaces. This has led to a growing interest in kitchen refurbishment trends, such as sustainability, smart technology integration, and the use of natural materials.
Sustainability, in particular, has become an increasingly important consideration for homeowners looking to refurbish their kitchens. Kitchen fitters are responding to this demand by offering eco-friendly materials and appliances, such as recycled glass worktops and energy-efficient appliances. This not only reduces the environmental impact of the kitchen refurbishment but can also save homeowners money on their energy bills in the long run.
Smart technology integration is also becoming more popular in kitchen refurbishments, with homeowners seeking touchless taps, smart appliances, and voice-controlled virtual assistants to enhance the convenience and efficiency of their kitchens. Kitchen fitters are responding to this demand by offering a range of smart technology options that can be customized to meet the unique needs and preferences of homeowners.
In conclusion, kitchen fitters play a crucial role in kitchen refurbishments in the UK, offering expertise, experience, and a range of services to create functional and visually appealing kitchens that meet the unique needs of homeowners. When choosing a kitchen fitter, it is important to consider factors such as experience, qualifications, cost, range of services, quality of materials, and customer service. The COVID-19 pandemic has created some challenges for the industry, but demand for kitchen refurbishments remains strong, with homeowners increasingly interested in sustainability and smart technology integration. By choosing a reliable and reputable kitchen fitter, homeowners can create a kitchen that is both functional and aesthetically pleasing, adding value to their home and enhancing their quality of life.

Some kitchen fitters pages:
http://www.fitteroo.uk/prestwick.html
http://www.fitteroo.uk/sutton-coldfield.html
http://www.fitteroo.uk/wells-next-the-sea.html
http://www.fitteroo.uk/rickmansworth.html
http://www.fitteroo.uk/morley.html
http://www.fitteroo.uk/wistaston.html
http://www.fitteroo.uk/ramsbottom.html
http://www.fitteroo.uk/prestatyn.html
http://www.fitteroo.uk/atherstone.html
http://www.fitteroo.uk/amesbury.html
http://www.fitteroo.uk/eckington.html
http://www.fitteroo.uk/bordon.html
http://www.fitteroo.uk/royston.html
http://www.fitteroo.uk/amersham.html
http://www.fitteroo.uk/alford.html
http://www.fitteroo.uk/annfield-plain.html
http://www.fitteroo.uk/codsall.html
http://www.fitteroo.uk/killamarsh.html
http://www.fitteroo.uk/prestonpans.html
http://www.fitteroo.uk/highbridge.html
http://www.fitteroo.uk/southchurch.html
http://www.fitteroo.uk/staplehurst.html
http://www.fitteroo.uk/new-romney.html
http://www.fitteroo.uk/frome.html
http://www.fitteroo.uk/great-dunmow.html
http://www.fitteroo.uk/spilsby.html
http://www.fitteroo.uk/euxton.html
http://www.fitteroo.uk/knaphill.html
http://www.fitteroo.uk/radstock.html
http://www.fitteroo.uk/halesworth.html